Welcome to our Annual Pipe Organ Tour!  We hope you enjoy this morning full of history, architecture, and organ music.  Thank you for supporting the Denver Rocky Mountain Chapter of the American Guild of Organists, and Historic Denver, Inc.
For this year's tour we will be driving between 3 beautiful spaces in southeast Denver.
Click here for a map and driving directions for each church.
Check in will take place at Calvary Baptist Church beginning at 9am. 6500 E. Girard Ave.
Our tour starts at 9:30am.
---
9:30 Calvary Baptist Church — 6500 E. Girard
Built in 1887 out of rhyolite from Castle Rock, Trinity United is the first building designed by architect Robert Roeschlaub. Roeschlaub would go on to design and build many buildings in the city, including a number of Denver schools. The Gothic design features a prominent tower, and the theme of "3" repeats throughout the building, from the main entrance to the bands on the Tower.
Trinity United Methodist Church's organ was built in 1888 under the supervision of Frank Roosevelt, of Roosevelt Organ Works. It is one of two Roosevelt organs in Colorado, the other is located at First United Methodist Church in Boulder. Trinity's organ features 4275 pipes in 82 ranks organ, and because municipal electricity was sporadic at this time period, a water wheel in the basement would provide power if there was an outage.
---
Holy Ghost Church– 1900 California St.
Designed in 1923 by architect J.B. Benedict, the church features a mix of Spanish and Italian Renaissance styles. When dedicated in 1924, the church was only 1/3 complete. Helen Bonfils took an interest in the parish and financed the rest of the building in 1940.
The organ at Holy Ghost Catholic Church was built in 1985 by the Schantz Organ Co. It was a gift from Dr. Judith Higdson in memory of her parents. The organ is 56 ranks and 45 stops over three manuals and pedal.
---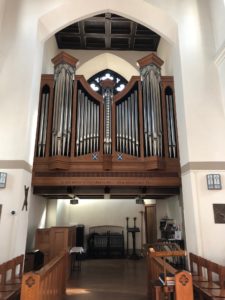 St. Andrew's Episcopal Church — 2015 Glenarm Pl.
St. Andrew's is a gothic style church that was built between 1907-09. It has a very notable architect, Ralph Adams Cram, who built a great number of buildings from those at West Point Academy, to Princeton, to St. Thomas Cathedral in New York. The church was commissioned for Alexis Dupont Parker as a memorial to his wife.
The current organ is Opus 26 built by John-Paul Buzard in 2001. It has 23 ranks. 1,340 pipes, 3 divisions, 2 manuals, 28 stops and 20 registers. It is installed in the baptistry and was dedicated in February of 2002.
---
Parking Information
There is no free parking available at Trinity Methodist Church, however there are paid lots near the church. All three of our churches are very close to one another, so you may prefer to park at St. Andrew's since that is where the tour will end.
Parking at St. Andrew's Episcopal Church is located on northeast side of the church, and available to our guests. The only exception are the two rows of parking farthest from the church.
Holy Ghost Cathedral also has parking available at 19th and Welton. However, we are not allowed to park in any spots that say MONTHLY PARKING. To use the lot follow the instructions below.
Go to the KIOSK :
Touch any key on the key pad
Enter exact license plate numbers and letters.  Press OK
Select Option – Choose appropriate # for Holy Ghost – Press OK
Enter Coupon Code: Enter 1312 – Press OK
A dash tag will print. *Check your dash tag! If you made an error, begin process again.
Put dash tag inside your vehicle face up
on the dashboard