Annie Levinsky to depart Historic Denver after 14 years as executive director
"Unyielding dedication to thoughtful and inclusive preservation, education and advocacy."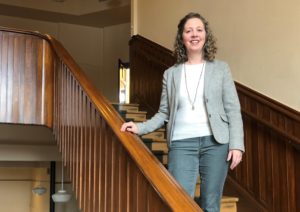 After 19 years with Historic Denver, Inc. including 14 as executive director, Annie Levinsky will step down to join History Colorado as chief of staff. As a leading voice for preservation in the region, Annie has led Historic Denver in successfully advocating for the preservation of hundreds of buildings that hold a special place in the hearts of Denver communities, including historic districts and individual landmarks.
"I'm grateful to have had the opportunity to lead an organization that has made such an impact on the city I love," Levinsky said. "All that we've done, we've done in a creative, collaborative and approachable way, and I'm so proud of what we've achieved together."
Historic Denver's Board of Trustees will begin a local and national search for a new executive director immediately.
"On behalf of the board, I want to thank Annie for her visionary leadership and unyielding dedication to thoughtful and inclusive preservation, education and advocacy," Board of Trustees Chair John Lucero said. "The impact she's had on preservation in this city will last for generations. And thanks to her tireless efforts, Historic Denver is well-equipped to serve its mission for the next 50 years and beyond."
As a civic leader with expertise in the built environment, local history and city planning, Levinsky has been a leading voice for preservation in the region, ensuring Denver's cultural heritage was in the forefront across a variety of large-scale planning efforts including the the Loretto Heights redevelopment, the National Western Center and the city's Comprehensive Plan 2040. Most recently she worked with neighbors and other community leaders to see La Alma Lincoln Park become a new cultural historic district – the first in Denver designated for its Chicano heritage.
Levinsky led the expansion of Historic Denver's advocacy programs, including the crowdsourced "50 Actions for 50 Places" campaign to identify sites that reflect the full diversity of Denver's story; the first-ever survey of every building in the city, called Discover Denver; walking tours, and more. During her tenure, Historic Denver has reinvested in its Molly Brown House Museum, which draws tens of thousands of visitors each year and is recognized as a leading women's history resource in the United States.
Since the 1970s, while also advocating for the grand buildings and beautiful architecture usually associated with history's most prominent figures, Historic Denver has increasingly worked to preserve and amplify a more inclusive history. Since taking the leadership role at Historic Denver in 2009, Levinsky has partnered with grassroots community groups to see the landmarking of: the La Alma / Lincoln Park Cultural Historic District; the former Emily Griffith Opportunity School; the home of John Henderson, Colorado's first licensed African-American architect; and recently the home of Judge Raymond Jones, Colorado's first African-American appellate judge. In 2021, Historic Denver redoubled its commitment to serving and reflecting our whole communities, and to advancing the stories of all Denverites.
From 2014-2017, Levinsky led a $1.5 million capital and capacity-building campaign that rehabilitated the beloved Molly Brown House Museum, established the Historic Denver Action Fund to catalyze community-based preservation efforts, and secured Historic Denver's financial stability through development of its Legacy Fund. These investments ensure Historic Denver's ability to grow its impact for years to come.
Updated May 16, 2022