2017 ANNUAL DINNER & AWARDS PROGRAM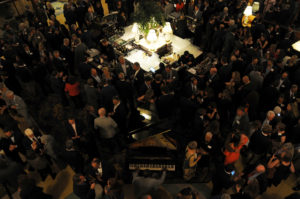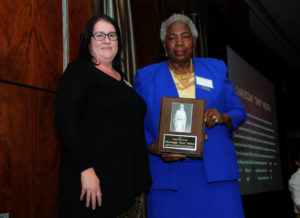 On the evening of Wednesday, November 1st, 2017 almost 450 people joined Historic Denver to celebrate preservation in Denver for the 47th Annual Dinner and Awards Program at the Brown Palace Hotel and Spa.  The program honored a diverse set of individuals and projects — including our Re-Mix Award in its second year, honoring a successful mix of old and new architecture, awarded to Shift Workspaces – Bannock.
 The inspiring 2017 Community Preservation Awards video was shown at the dinner, and this year featured our Award Winners in a roundtable discussion together. The awards video by Havey Pro Cinema features interviews with the Preservationists behind Stanley Marketplace, The Bosler House, the Krisana Park Conservation Overlay District, Shift Workspaces – Bannock, and the Goddard School at Steele Gymnasium. Our Individual Award winners: The Keystone Award Winners: The Nelson/Falkenberg Family, The Ann Love Awardee: Susan Powers, and our Molly Brown Award Winner: Charleszine "Terry" Nelson, offered wisdom from a lifetime of preservation work. We are so grateful to honor these projects, these people and all of their efforts.
We held our first ever Live Auction of unique historic experience packages during the end of the evening, which turned out to be a lively and exciting fundraising for Historic Denver. We felt the love from our community, and are excited to honor what makes Denver, Denver in 2018!
You can read more about each honoree and the Community Preservation Projects in our Press Release.