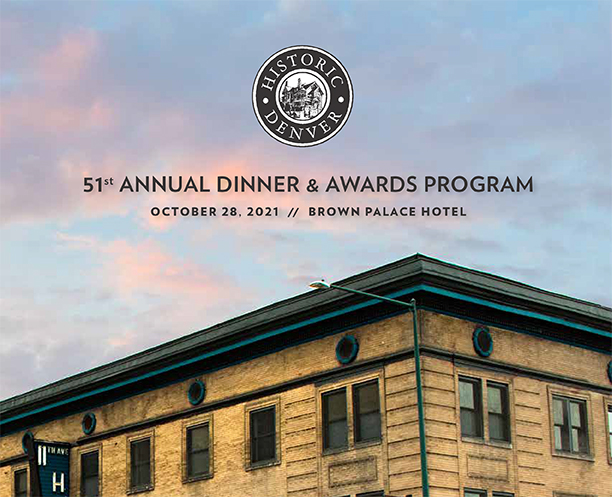 51st Annual Dinner and Awards Program
Live and In-Person!
Historic Denver's
51st Annual Dinner & Awards Program
Thursday October 28
th
, 2021
Brown Palace Hotel
Cocktail hour – 5:30 pm
Dinner – 7pm
After more than a year of social distancing, we are excited to announce that our Annual Dinner and Awards Ceremony will take place in person at the Brown Palace Hotel in 2021. For over 50 years, Historic Denver has brought together our city's civic and business leaders, design professionals, respected craftsmen, and local advocates to celebrate our city's heritage and built environment.
Historic Denver's Annual Dinner & Awards Program honors the individuals and projects that highlight Denver's cultural history and anchor the future. Three individual awards, the Molly Brown Award, the Ann Love Award and the Keystone Award will be presented, along with four Community Preservation Awards for outstanding projects and two Re-Mix Awards for an innovative mix of old and new architecture.
Purchase a table for eight guests (each table seats ten – your support sponsors two community members' tickets to our dinner)

Contact Sigri Strand, Development Manager: 303-534-5288 ext. 7
Check Out Our Most Recent Videos:
Congratulations to our 2019 Award Winners
Keystone Award
Dr. Thomas J. Noel "Dr. Colorado"
Ann Love Award
Sid Wilson
Molly Brown Award
Councilwoman Debbie Ortega
Community Preservation Awards
Savageau Building
Tammen Hall
The Essex
The Quayle – 1st Avenue Hotel
Remix Award
Dairy Block
Thank you to our Committee and Sponsors!
Co-Chairs
Susan Powers & Jerry Glick
Committee Members
Davis Butler
Dorit Fischer
Ellen Ittelson
Jesse Kajer
Tom Kimball
Annie Levinsky
Bill Mosher
Sigri Strand
Jacob Vanderslice
Elbra Wedgeworth
Presenting Sponsor
Zocalo Community Development

Congratulations to our 2018 Award Winners
Keystone Award
Honorable Wellington Webb
Honorable Wilma Webb
Ann Love Award
Gregorio Alcaro
Molly Brown Award
Patricia Calhoun
Community Preservation Awards
2200 California St.
Packard's Hill Historic District
The Mirador at Tennyson
The Dodge Building
Remix Award
Snarf's on South Broadway
Co-Chairs
Ellen Ittelson & Mike Zoellner
Committee Members
Michelle Malone Fries
Jesse Kajer
David Leuthold
Annie Levinsky
Kim Miller
Nicole Malo
Kendra Sandoval
Sigri Strand