Current Issues & Advocacy
Historic Denver, Inc. is Denver's primary supporter-based preservation advocacy organization. We work with neighborhoods, City Council members, property owners and other interested parties to ensure the preservation of essential historic resources in the Denver area.
The idea to create a mall on 16th street in Denver began as early as 1959, but was not given serious consideration until 1971. Following years of planning and construction, the 16th Street Mall, designed by the internationally renowned architectural firm I.M. Pei & Partners of New York, opened on October 4, 1982 to a crowd of over 200,000 people. The main features of I.M. Pei's design include poly-chromatic granite pavers, wide sidewalks, and a central tree lined corridor flanked by iconic lighting fixtures...
In July 2014 Historic Denver convened a group of community stakeholders, including Parks & Recreation, to talk about City Park, and to explore questions about what the park's past means for its future. After several months of exploration about historic park management, the group hosted a community meeting in February 2015 and recommended an update to the 2001 Master Plan, including the development of City Park-specific design guidelines. This will allow the community to develop a shared vision for the park...
CURRENT ISSUES Packard's Hill Back to archive Packard's Hill Historic District - Approved A group of residents worked together to create a new historic district– one that joins Ghost, Wolff Place, Witter-Cofield and Potter Highlands in achieving [...]
More Advocacy Issues
From our first save in 1970, with the preservation of the Molly Brown House, to our work in the 1980s to create the Downtown Historic District, to our work throughout neighborhoods today, Historic Denver works tirelessly to ensure the city we love today will be here tomorrow.
Historic Denver News
Catch up on our Current Advocacy Issues, new and fresh ideas coming out of the Preservation world, and learn all about what Historic Denver and the Molly Brown House are up to.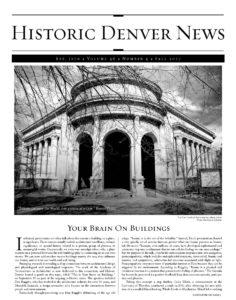 Fall 2017: Your Brain On Buildings (Pdf link Coming Soon!)