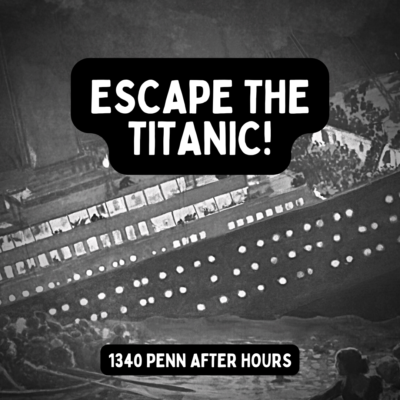 Enjoy a risqué look at life in the era of the unsinkable and outspoken Margaret "Molly" Brown. Exploring topics too taboo to talk about in the daylight, th
is speakeasy features signature cocktails and salacious vignettes perfect for good-timers and geeks alike!
Our next program in the 1340 Penn Series is Escape the Titanic! on March 16th. Imagine it is 1:20 am on April 15, 1912. You are locked in the bowels of the ship with your fellow 3rd class passengers as the Titanic begins its descent into the ocean. Can you solve the puzzles to travel from deck to deck and get on a lifeboat before the ship becomes fully submerged? Escape the Titanic! has an entry time every 15 minutes starting at 6pm, last entry at 8pm. There is a maximum of 8 people allowed per entry time and the event is approximately one hour in duration from your entry time. To get your tickets, find available entry times below!