Volunteer
with Historic Denver & Molly Brown House Museum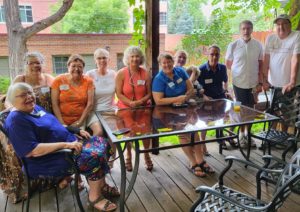 Walking Tour Program
Embark on an exciting journey with us as we search for dynamic individuals to join our team of walking tour guides! If you like to share Denver's rich history, relish the idea of strolling through the city, and donating your time to a non-profit, then fill out the Volunteer Interest Form to interview for our next training course in early 2024. It could be the perfect adventure for you!
Are you passionate about Denver and its history?

Do you have some knowledge of local history and architecture?

Do you enjoy public speaking?

Do you like engaging with people from all over the world?

Do you like to get outside and walk the streets of Denver?
Upon passing the initial interview, individuals will be notified of acceptance into the program. Accepted Walking Tour Guides are required to commit and successfully complete 4-Saturdays of intensive training courses, which will make you an expert in all things Denver! This training course will include expert speakers, fieldwork, hands-on activities and even a bit of homework! 
Our Walking Tours are 85-90 minutes long and take place rain, shine or snow. We ask that volunteer guides to commit to giving at least 2 tours (3 hours) each month.