Volunteer
with Historic Denver & Molly Brown House Museum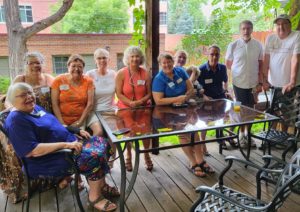 Walking Tour Program
We have completed interviews for our 2023 Walking Tour Guide class. f you'd like to interview for a spot in our Jan/Feb 2024 training, please feel out the form below. We will be conducting interviews in December 2023.
Are you passionate about Denver and its history?

Do you have some knowledge of local history and architecture?

Do you enjoy public speaking?

Do you like engaging with people from all over the world?

Do you like to get outside and walk the streets of Denver?
Upon passing the initial interview, individuals will be notified of acceptance into the program. Accepted Walking Tour Guides are required to commit and successfully complete 4-Saturdays of intensive training courses, which will make you an expert in all things Denver! This training course will include expert speakers, fieldwork, hands-on activities and even a bit of homework! 
Our Walking Tours are 85-90 minutes long and take place rain, shine or snow. We ask that volunteer guides to commit to giving at least 2 tours (3 hours) each month.