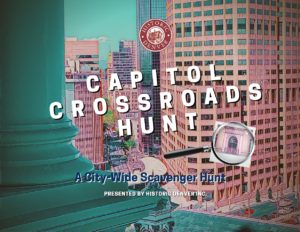 Are you ready to uncover more about Denver's past, while following a series of clues through the city's center? You'll have 4 days to complete your hunt–although it should take something closer to 2.5 hours. Go by foot, go by bike, or any way you like! The hunt is an innovative way to uncover more about the city you love, while enjoying a fun activity with family, friends, or even on your own. Teams of up to six players have four days to complete the challenge. The first 50 people to complete the hunt will receive special finisher medals. Prizes will be awarded to the teams with the fastest completion time, best team spirit photo, and outstanding history buffs.
2021 marks 50 years since Historic Denver began preserving the places that matter in Denver, starting with the Molly Brown House Museum. By participating in the Capitol Crossroad Hunt, your ticket proceeds help to support the amazing work of our institution and the museum.
Register your team today for this fun challenge!