– Event Program –
The Brown Palace | 321 17th St, Denver, CO 80202
Cocktail Reception – 5 PM | Awards Dinner & Gala – 7 PM
Use the early registration option to fly through the line when you arrive — See below for details!

Evening Cocktail Attire
Welcome to Historic Denver's 53rd Annual Gala & Awards Dinner, where we'll be honoring five powerful projects and three passionate people. For over 50 years, Historic Denver has advocated for the places and spaces beloved by Denverites and celebrated those who preserve those places in ways that are compatible with growth, affordability, sustainability, and inclusivity.
The evening includes our popular networking cocktail reception in the beautiful historic lobby of The Brown Palace — a rare honor as we are only one of three outside events permitted to take over the lobby! Afterward, enjoy a three-course dinner, short film about the eight 2023 honorees and their projects, awards presentation, and an exciting live auction and paddle raise to support Historic Denver's year round work.
Run of Show
5 PM | Check-In & Cocktail Reception Begin in the Historic Lobby
6:45 PM | Bar closes in lobby
7 PM | Program starts in the Grand Ballroom
7:10 PM | Dinner is served
7:35 PM | Awards Program Begins
8:15 PM | Live Auction Begins
8:45 PM | Final Remarks
9 PM | Program Ends
There is a Sky Bridge to the Grand Ballroom – With Accessibility Options
Dinner Menu
Salad
Petite Greens (V, GF) | Mixed Greens, Cucumber Ribbon, Sheep Milk Feta, Blackberries, Candied Cashews, Cinnamon Cardamom Vinaigrette
Main Course
Pan Seared Herb Chicken Breast with Lemon Herbed Glaze (GF), Herb Smashed Potatoes, Chef's choice of Seasonal Vegetables
Vegan Option:
Roasted Vegetable Wellington (VE, GF) | Vegan Pastry Shell, Roasted Seasonal Vegetables, Tomato Coulis
Dessert
Vanilla Panna Cotta | Fresh Berries, Chantilly Cream
Vegan Option:
Vegan Chocolate Mousse (VE, GF, DF, NF) | Mixed Berries
Please Note: If you have specific dietary restrictions and would like your meal to accommodate them, kindly inform your waiter after being seated in the ballroom, and they will ensure your needs are met.
Additional Info:
The hotel's accessible entrance is located mid-block on 17th Street. For additional accessibility information once inside the hotel, please ask at our Registration Table, located by the escalators near Ship Tavern. Check-in first to get your name badge, table assignment, and auction paddle before joining the cocktail reception in the lobby.
The weather forecast for Thursday looks like it will be sunny, with a high of 65 degrees. With curbside valet parking and a convenient coat check, you'll remain nice and warm long after the sun goes down.
Parking Available at the Brown Palace Hotel – Overnight valet parking is available in The Brown Palace motor lobby for approximately: 0-6 Hours – $20 | 6+ Hours – $39 | Overnight – $52
Register in Advance & Fly Through the Line at Check-In
Download the FREE HandBid app from the App Store or Google Play Store to preregister – saving you time at check-in and getting you to the cocktail reception sooner!
Your registration with HandBid will also allow you to participate in both our silent and live auctions, provide you with emailed invoices, and help you close out your transactions quickly at the end of the evening.
Our Online Silent Auction is Now Open
While the gala itself is sold out, there's still a fantastic opportunity for you to engage in the excitement and demonstrate your support by taking part in our online silent auction, accessible until noon on Sunday, November 5.
We're offering a remarkable selection of packages, including romantic date night experiences for two, coveted sports tickets, a memorable party within the historic D&F Clocktower in downtown, and even an exclusive tour of Cableland, the official Mayoral residence of Denver. Don't miss your chance to place your bid online before these unique packages are gone!
CONGRATULATIONS TO OUR 2023 AWARD WINNERS: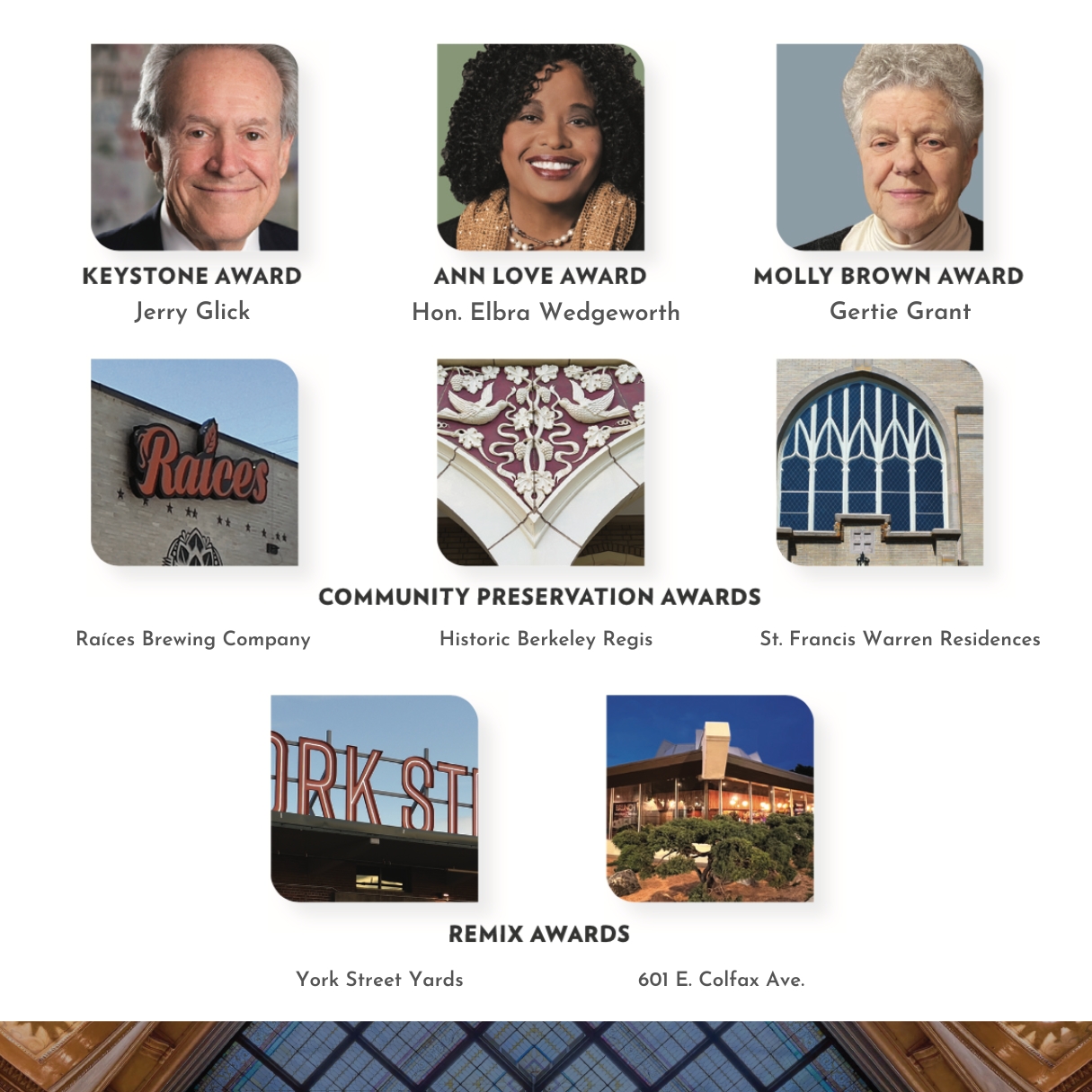 About This Year's Honorees
JERRY GLICK | KEYSTONE AWARD WINNER
Jerry Glick first formed real-estate investment and development company Columbia Group in 1973. By the mid-1980s, he was working on adaptive reuse projects ranging from office space to affordable housing to some of Denver's first lofts. Many recognizable projects bear his influence, including the Studebaker Building at 15th and Blake streets, Silver Square Lofts at 3377 Blake St., and the Rocky Mountain Seed Co. annex at 1321 15th St.
He was a vocal supporter of the Lower Downtown Historic District at a time when many others didn't initially understand the need for or business case for historic districts. A lifelong entrepreneur and philanthropist, Glick is active in both business and community organizations. He is a member of the Colorado Forum, and past service includes the steering committee for the Denver Downtown Area Plan, chair of the Downtown Denver Partnership, chair of Denver Civic Ventures, vice president of the Denver Union Station Project Authority, and former chair of the Denver Urban Renewal Authority.
HON. ELBRA M. WEDGEWORTH | ANN LOVE AWARD WINNER
With a career in public service spanning more than 30 years, Elbra M. Wedgeworth held positions in all three branches of Denver's city government — Auditor's Office, Denver City Council, and Mayor's Office — and at Denver Health and Hospital Authority, where she launched the Denver Health Foundation and spearheaded a bond initiative leading to the construction of the Denver Health Outpatient Medical Center.
A lifetime advocate for historic buildings, Wedgeworth served nine terms as president and chair of the Denver Union Station Project Authority, which oversaw the $500 million Denver Union Station Project that included the adaptive re-use of Denver's historic Union Station building. In 2014, Wedgeworth was honored by the city with the dedication of 2855 Tremont Pl. as the Elbra M. Wedgeworth Municipal Building.
GERTIE GRANT | MARGARET "MOLLY" BROWN AWARD WINNER
After saving 50 unwanted trees and giving them to neighbors, Gertrude "Gertie" Grant inadvertently launched what would become the Denver Digs Trees program from her garage in 1983. The tree distribution program later combined forces with The Park People, who offered to sponsor half the cost of the trees planted in the right of way. The program continued growing from there, thanks to bond initiatives and to Grant, who became the first Denver Digs Trees staff member in 1991.
Thanks to Grant, Denver residents have now received more than 60,000 trees. In addition to her contributions to the urban canopy, Grant is an active member of her West Washington Park neighborhood organization and Inter Neighborhood Cooperation (Denver INC).
COMMUNITY PRESERVATION AWARD WINNERS
Raíces Brewing Company
Raíces Brewing Company is a 6000-square-foot bow truss building that once housed a car repair facility turned open concept taproom in Denver's Sun Valley neighborhood. Located on the 3.2 acre mixed-use STEAM on the Platte, Raíces, Spanish for "roots," was created to provide a Latino-centered space in the craft brewing industry for those from across the Americas.
Developed by Urban Ventures and White Construction (core and shell work), other partners include Built Construction (interior construction), Chord Design Studio (interior design), and Arete Inspired Architecture, who specialize in adaptive reuse spaces for craft alcohol and food and beverage manufacturing.
Historic Berkeley Regis
Historic Berkeley Regis formed in 2016 to focus on the historic assets located in the Berkeley Regis neighborhood of Northwest Denver. In February 2020, the group successfully found a preservation-minded buyer to purchase the Howard Berkeley Park Chapel and prevent its demolition. The historic chapel, designed by Denver architect J. Roger Musick, was designated a Denver landmark in July 2020.
St. Francis Warren Residences
St. Francis Warren Residences are 48 dormitory-style units of affordable housing created from the 1909 Warren United Methodist Church and built to serve extremely low-income individuals who earn at or below 30% AMI.
Designed by Shopworks Architecture and constructed by Taylor Kohrs for St. Francis Center, an organization providing permanent housing and other services to those experiencing homelessness across the Denver metropolitan area.
REMIX AWARD WINNERS
GBX GROUP AND TOM'S DINER INC. – 601 E. COLFAX AVE.
After two decades of the all-night eatery Tom's Diner, this 1967 former White Spot at 601 E. Colfax Ave. was reborn in 2022 as cocktail bar and lounge Tom's Starlight. The building's spaceship-style roof, considered one of the country's best examples of Googie-style architecture, is now on the National Register of Historic Places and under easement from the Colorado Historical Foundation, which protects it against demolition in perpetuity.
Among the most intact buildings on East Colfax, the reimagined Tom's Starlight pays homage to the past. From the astroturf patio to the Tiki head sculptures and walnut-covered bar, 1970s Palm Springs vibes abound, while the colorful modern contemporary style evokes a space remixed for the present and future.
York Street Yards
York Street Yards is a 32-acre site located in the Clayton neighborhood in the former home of the historic Denver Medical Depot. Built in 1942 for the Army as a storage and distribution center for medical supplies during World War II, the nearly 500,000 square foot urban business campus now houses an electric car service center, e-bike retailer, and a brewery, among others.
Developed by ScanlanKemperBard (SKB) in partnership with Tryba Architects and Hyder Construction, main components of the multi-year phased project include renovations of the red brick and timber buildings designed by Temple Hoyne Buell, new construction, and creating a "cut-through" one of the buildings to link Denver Parks & Recreation's 39th Avenue Greenway to the campus. Window and door systems were updated, building corners were opened up, and garage-style rolling glass doors were added to let in natural light, yet much of the original industrial feel and representation of the WWII military era construction remains.