52nd Annual Dinner & Awards Program
At the Brown Palace Hotel
321 17th St, Denver, CO 80202
Valet Parking Available on the Tremont Street Entrance*
Business/Formal Attire
Register Early & Fly Through the Line at Check-in! See below for more details!
~5:00 PM~
Check-In & Cocktail Reception
Begin in the Main Lobby
Registration Table is Located by the Escalators, Near Ship Tavern
~7:00 PM~
Dinner & Awards Program
Begin in the Grand Ballroom
There is a Sky Bridge to the Grand Ballroom – With Accessibility Options
The hotel's accessible entrance is located mid-block on 17th Street. The hotel's Valet Parking accepts vehicles specially outfitted for wheelchair users. For additional accessibility information once inside the hotel, please ask at our Registration Table, located near the escalators – by Ship Tavern. Check-in first to get your name badge, table assignment, and auction paddle before joining the cocktail reception in the lobby.
The weather forecast for Thursday looks like it will be sunny, with a high of 67 degrees. With curbside valet parking and a convenient coat check, you'll remain nice and warm long after the sun goes down.
*Parking Available at the Brown Palace Hotel ~ Overnight valet parking is available in The Brown Palace motor lobby for approximately $52 per night. Reduced and complimentary parking does not apply to overnight parking rates.
~ Parking Rates ~
0-6 Hours – $20
6+ Hours – $39
Overnight – $52
~ Tonight's Menu ~
~Salad~
Petite Greens (V, GF)
Mixed Greens, Cucumber Ribbon, Sheep Milk Feta, Blackberries, Candied Cashews, Cinnamon Cardamom Vinaigrette
Fresh Rolls and Sweet Butter
~Entree Course~
Pan Seared Herb Chicken Breast
Vegetable Rice Pilaf, Lemon Herbed Glaze
Chef's Selection of Seasonal Vegetables
Vegan Alternative – Roasted Cauliflower Steak
(VE, DF, GF) with Golden Raisin Quinoa Salad, Pistachio Gremolata
~Dessert Course~
Dark Chocolate Mousse with Cookie Crust, Rich Ganache Coating, Fresh Fruit
~Please inform your waiter of any dietary restrictions~
2022 Annual Dinner & Awards Honorees
At our Annual Dinner & Awards program we are honored to celebrate the following individual and project award winners for their work preserving culture, affordability, and sustainability.

"Historic buildings are community assets and part of our cultural fabric, What's more, preserving them is compatible with growth, affordability, sustainability and inclusivity — and our 2022 award recipients are living proof." – John Lucero, chair of the Historic Denver Board of Trustees.
INDIVIDUAL HONOREES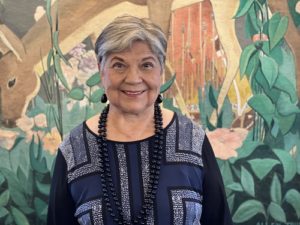 Polly Baca: Political consultant and the first Latina elected to the Colorado State Senate​.
Polly Baca will receive the Molly Brown Award for devoting many years to civic life in all its forms, actively engaging in politics, philanthropy, arts and culture.​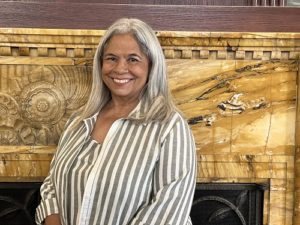 Dr. Renee Cousins King: Pediatrician and advocate for Five Points community history.
Renee Cousins King will receive the Ann Love Award, given to someone who may not consider themselves a traditional preservationist, but has shown initiative, creativity, and commitment in preserving the history, culture and architecture of Denver.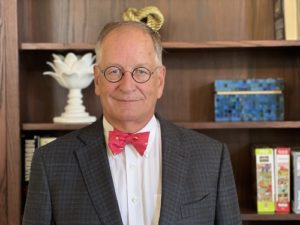 Dennis Humphries: Architect, preservationist, founder of the Denver Architecture Foundation.
Dennis Humphries will receive the Keystone Award for his significant contribution to historic preservation over a career or lifetime.
PROJECT WINNERS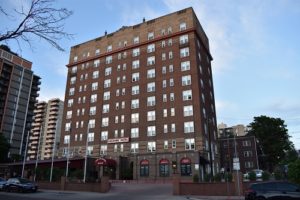 The Colburn Hotel Apartments: Affordable housing at 980 Grant St.
Historic buildings are one part of the solution to our city's housing crisis, and can offer density without demolition. One of the latest Denver projects to embrace and elevate this win-win strategy of affordable, historic housing is the Colburn Hotel apartments in Capitol Hill.
Famous for its association with Jack Kerouac, the Colburn opened as a residential hotel in 1928. It has served as low-income housing for decades, in particular serving residents who have experienced homelessness. Gorman & Company invested in major infrastructure upgrades to ensure the Colburn apartments remain viable, comfortable and affordable.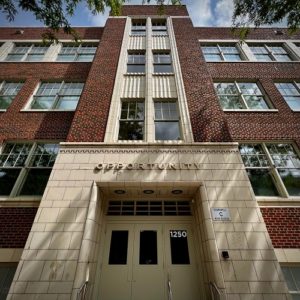 The Slate Denver, Tapestry Collection by Hilton at Emily's Alley: Mixed-use at 1250 Welton
More than 2 million people have benefitted from Emily Griffith's progressive idea that education should be accessible to all. Now a Denver landmark, the original 1916 Emily Griffith Opportunity School building was reimagined by Stonebridge Companies and transformed into a hotel, retail and office spaces, with hints of the building's former use as a school "for all who wish to learn."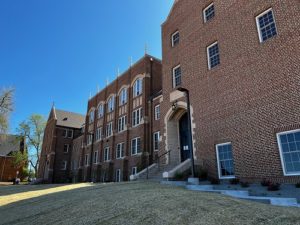 Pancratia Hall: Affordable housing at 3144 West Frances Walsh Pl.
Historic preservation is inherently sustainable. Using historic buildings averts negative environmental impacts by keeping materials out of landfills and consuming less energy than demolishing buildings and constructing new ones. But some preservation projects take sustainability to the next level.
Pancratia Hall Lofts resulted from the adaptive-reuse conversion of a Denver landmark – a vacant 1920s classroom and dorm at Loretto Heights – into 74 modern, family-sized, affordable apartments. The building is powered by 100% renewable energy, exceeds Enterprise Green Community standards, and has xeric landscaping and a new fruit-tree orchard.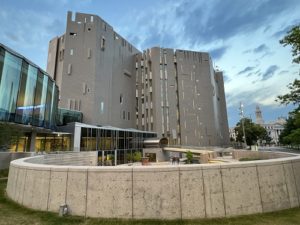 Denver Art Museum Martin Building Project: A Denver icon at 100 W. 14th Ave Pkwy.
Historic Denver believes historic buildings are community assets — part of our cultural fabric and essential to a diverse, dynamic and distinctive city. And one of the most distinctive buildings in our city is the Denver Art Museum's 1971 Gio Ponti design, now known as the Martin Building.
It is a cultural attraction and a stunning visual landmark on the Golden Triangle skyline, known to locals and tourists alike — and Ponti's only American work. The Denver Art Museum undertook a multi-year restoration of the iconic building, including carefully treating the 1 million glass tiles that give the building its dynamic sheen.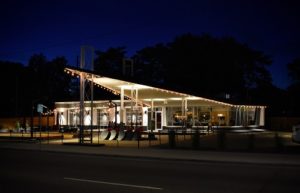 Benzina: Italian restaurant at 4839 E Colfax Ave.
Historic Denver is actively engaged every day in finding creative, authentic solutions to the places where growth and preservation meet.
Benzina owner Brad Anderson spent three years doing the same. Anderson transformed a former muffler shop into a midcentury-modern styled restaurant. He reused the distinctive, mid-mod protruding awning to cover a new, unique outdoor space, and reused the garage bays to create indoor-outdoor dining experiences. Benzina and others are helping to fuel a Colfax renaissance of walkable destinations.
Get Excited For Our Live Auction!
Each year at the Annual Dinner we auction off unique experiences in historic places. This year you could either find yourself hosting a Private Party in a Grand Denver Mansion, getting Behind-the-Scenes Access at Festivities During the National Western Stockshow, or Staying in a Historic Villa on the Southern Coast of France!
Click the images below to view samples of the auction packages in store for you this year!
Make Your Event Check-In Process Quicker By Pre-Registering With HandBid!
This year Historic Denver is adding a text-to-give option during the fundraising portion of the event! If you haven't already, click the HandBid logo below to preregister – saving you time at check-in and getting you to the cocktail reception sooner!
Your registration with HandBid will also allow you to participate in the live auction, help us track your text-to-give transactions, provide emailed invoices, and help everyone close out their giving quickly at the end of the evening.
As an added bonus – all of the guests who pre-register will receive complimentary tickets to the Molly Brown House Museum! Just email our Development Manager, Jay Homstad, at jay@historicdenver.org right after preregistering with HandBid – it's that easy!

Our 2021 Award Winners
Keystone Award: Charlie Woolley
Ann Love Award: Lucha Martinez de Luna
Molly Brown Award: Tony Garcia
Community Preservation Awards:
La Alma Lincoln Park Historic Cultural District, 11th Avenue Hostel, Unitarian Society of Denver First Unitarian Church of Denver, Sullivan Gateway, City Park Esplanade
Remix Award(s):
Bespoke Uptown, Hilton Garden Inn Denver Union Station and Woodie Fisher Kitchen & Bar
Our Award Selection Process & Criteria:
A jury comprised of current Historic Denver Board Members and past award winners reviewed the nominations and recommended a slate of award winners who were approved by the full board. Historic Denver took into account each nomination, as well as the collection of honorees in making our final decision, seeking to ensure that a range of project types and efforts were included, and that our organization is upholding its diversity, equity, inclusion and access values.
Nominations were also considered based on the following criteria:

Impact a project or person has had on the Denver community, i.e. its benefit to the city

Degree to which the project serves as an example of excellence in historic preservation and influences others to follow-suit

Degree to which the project or person supports diversity, equity, inclusion, access, or environmental sustainability

Innovative solutions to preservation including, but not exclusive to: Creative partnerships or community engagement efforts, original programming, thoughtful adaptive reuse, best practices in sustainability or technologies that mitigate climate change, cultural sustainability or heritage conservation, and/or creative financing or funding sources